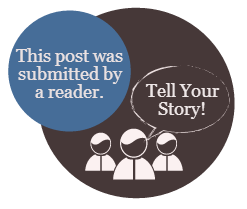 The following post is a part of our "Tell Your Story" category, where our readers submit their stories about their contact with the mental health system.
This was originally a submission in our forum by normac, before we changed to the new submission format:
normac

Hello Phil
on: September 11, 2012, 16:31

I happened upon your blog a few days ago, and have a few questions about bipolar.Hope you are doing better, as I observed you were off due to surgery.

My story is long, as most people with a mental illness can attest.

I initially self diagnosed myself after a "manic" period back in 2000, after completing a year of teaching at a community college. I spun out of control, seperated from my wife, and took on a wild life of sorts.

The results were disastarous, bankruptcy, time off work (for depression that followed), etc. According to a phsyciatrist i saw at the time, i was textbook bipolar. i was prescribed lithium, and complied for a while…not long though. I did ok for another year or so…and it happened again. This pattern repeated itself 2 more times. The last being 2005, ending in me coming home to my parents home in Jan 2006…basically no were else to go. Shortly after that i entered a treatment program for dual diagnosis (substance abuse and mental illness).

I didn't get much out of the program, and never felt i even belonged there…just did it to satisfy my parents.

I admit to abusing alcohol during much of this time, if this helps in your diagnosis of my problems. However, I don't believe that makes me bipolar. Just someone that has made poor choices.

I did seek out the help of a physiologist during all this, because I felt that alot of my problems were due to environmental issues.

i was brought up in a typical disfunctional home. My father was away much of the time, and was a secretive hard drinker, but not abusive. my mother has suffered from depression her whole life, and has whole lot of issues with her family…still does to this day. She was emotionally and physically abusive to me during my entire childhood. i know a little about why she acted this way, but still can't dismiss her behaviour. Truth be known, i really don't like her, i feel bad about this.

Anyway, long story short, i have not had any kind of manic behaviour in 5 years. i am not entirely sure why…as i have never been compliant with medication.

My life is better now, no debt, my own home, good job

This is my issue. my mother thinks i have been compliant on my meds over the last few years, which i have not. She sort of caught on a few times, because my lithium tests came back low…she checks, because i allowed it through my doctor. i basically pass the the tests by taking meds before a blood test, but thats the only time i take them.

My last few tests were very low, so now she is on the war path…she kind of scares me. i don't want my life as it is now to be turned upside down. She has threatened me with a form 1 (in Canada that means being forced involuntarily into 72 hour hospitalization).

I guess I am still afraid of her, and my childhood experience with her still haunts me.

What do you think Phil?
Phil

Re: Hello Phil
on: October 3, 2012, 20:49

Normac,Thanks for coming in.  Sorry for the delay in responding.  Your story is not uncommon.  The standard psychiatric illness theory is so well established in Western culture that it is seldom even questioned.

Because I don't know you personally it is difficult for me to be definitive or to give you specific advice, but here are some thoughts that may be helpful.

Firstly, you "crashed" about a year after taking your first job.  This suggests to me that things weren't going too well – either at work or at home or both.  In these kinds of contexts it's easy to blame others (wife, boss, etc.) but this usually gets us nowhere.  I encourage you to ask yourself if there were things that you were or weren't doing that contributed to the crash.  This is a very difficult process, and you might want to have a therapist help you with it.  In particular ask yourself if there were skill deficits involved, that could be remedied.  And I don't mean professional skills – rather interpersonal stuff – communication, give and take, critical self-appraisal – that sort of thing.

With regards to your mother, I think it's important that you achieve emotional emancipation, but, if possible, without burning too many bridges.  Family ties are important throughout life.  You mention that you are afraid of her, and this certainly needs to be rectified.  Ideally you could discuss these matters with her, and over time come to some resolution.  But this may not be possible.  At the very least, I think you should talk to a therapist about these matters, preferably one who isn't into the "mental illness" stuff.  The best way (perhaps the only way) to deal with fear and anxiety is talk and discussion.  It doesn't have to be with a therapist.  But it does have to be someone who takes you seriously and whom you respect.  If you are a religious person, then a clergyman might be helpful.  The important thing is to talk through this material completely and repeatedly – until it no longer generates feelings of fear/anxiety within you.

Best wishes.